There's nothing more valuable than hands-on experience. Harvest is an incredible chance for any wine lover to build a deep knowledge of the winemaking process from start to finish. It's also a time to see the intense work that goes into every bottle of wine up close and personal.
Nature waits for no one
Harvest usually begins in mid-August and can last all the way through November. Harvesting usually begins just after the ripening stage called veraison, when hard green grapes show signs of ripening and start developing sugars.
Weather has a significant impact on the ripeness and condition of the grapes when harvesters bring them to the winery for pressing. Warm days can speed up the start of harvest, while cold can slow it down. Storms, wildfires, and other environmental events can also have a major impact on the wine harvest.
Anyone helping with the harvest is on a critical mission to support the decisions and ultimate vision of the winemakers leading the harvest and crush. If you want to take part, you'll need to be ready to get started when the grapes are ready.
What Happens During a Typical Harvest?
It takes a team of dedicated people to produce every bottle of wine, and harvest gives you a first-hand perspective of what goes into the process.
An average harvest day involves an early wake-up, sometimes as early as 3 a.m., to begin selecting bunches of healthy grapes. Experts in the field will also flag early issues. Next, helpers will sort grapes for quality and ripeness. Grapes usually go from the table or conveyor belt to a destemmer.
If you're not sorting or picking grapes, there's a good chance you'll be lifting or cleaning.
Harvest involves a lot of physical project management. Barrels, tanks, and equipment are all moved at regular intervals to ensure that they are always easy to access.
Every part of the equipment and space from floor to ceiling is carefully cleaned before each batch of grapes arrives. Bacteria is one of the biggest threats to the winemaking process, so cleanliness is key for a successful harvest. Prepare to spend at least half of your time cleaning!
During harvest, people and machines will crush, destem, and ferment freshly-picked grapes. During the fermentation process, punch-down breaks up the grape skins and other solids that float to the surface of the large fermentation tanks. It's typical to press white wines after crushing and before fermentation and pressing red wines after fermentation.
Harvest is complete once all the wine is pressed and put in barrels and tanks to age. After the harvest wineries and their staff have a chance to grab a quick rest before the holiday season begins.
If you've never seen a grape harvest before, check out some YouTube videos or read a book or two to get an idea of what to expect. These are some of our favorites:
What To Know for Your Next Harvest
During the harvest teams will sort, weigh, pump, clean, and press bins of freshly picked grapes. Tasks for interns, staff, and other temporary help include:
Picking grapes
Driving a forklift lift
Hauling bins of fruit
Hand sorting grapes
Pigeage also called punch-down
Measuring the brix– the sugar content of a tank or grapes
Taking vineyard samples
Barreling wine
Racking
To help you prepare for the wide variety of tasks you may end up doing during harvest, we've created a full list of to-dos. We've included what to bring, how to prepare, and harvest tips for first-timers.
Let's get started.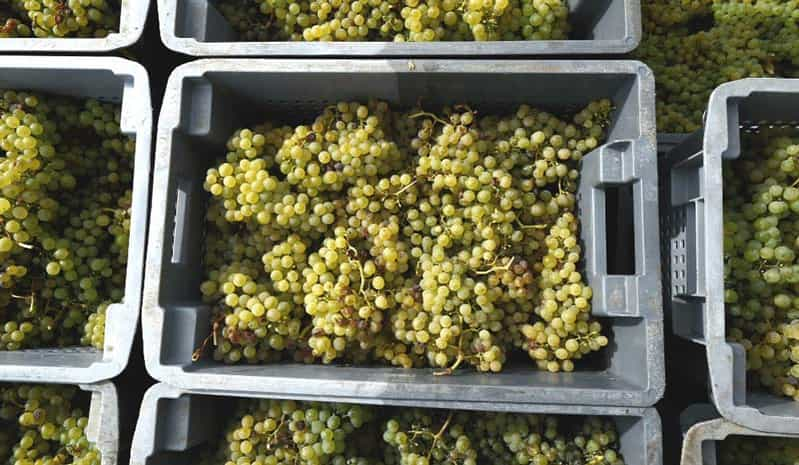 Harvest Tips for This Fall
1. Get in shape
Harvest means a lot of new faces working with unfamiliar equipment and heavy machinery. It takes prime conditioning to keep up with the rapid pace while bending and lifting for hours at a time. Cardio, weight training, and grip strength are three areas of focus for harvesters who want to be in top physical shape. If you can, start training a few months before harvest begins.
It's a good idea to get in strong mental shape too. High stress, physical exertion, and long hours can affect even the most mature and experienced professional. Mental and emotional skills that will benefit any harvest enthusiast include
Discipline
Stamina
Communication
Flexibility
Enthusiasm is a prized quality too. You will be a valuable addition to the team if you show up every day curious and ready to get to work.
2. Dress for success
Harvesting is hot, cold, and wet work. The shoes and clothing you bring will mean the difference between a productive, fun day and uncomfortable misery.
Wineries will often provide muck boots for tank and equipment cleaning. That said, you'll want to wear your own comfortable waterproof boots the rest of the time. Blundstones, Redbacks, and Merrells come highly recommended for the variety of activities you'll be helping with. Don't forget to pack a lot of clean socks!
Bring at least one set of spare clothes in case of spills. It's not unusual to start the day crushing grapes in the hot sun and ending your evening with barrel work in a cold cellar, so always wear layers. You may also want to invest in some good waterproof overalls.
As you're packing your bag for the day, think about adding some moisturizing lotion for your hands– tannins can be hard on skin. Garden gloves are also a great item if you'd like to opt-out of stained and sticky hands while you work.
3. Prepare for a tough first day
Harvest is physically demanding and requires alert attention during 12 to 14-hour days. You'll be working with new equipment and new people. It also involves a lot of time management and cleaning. There is usually no set finish time on any given day. The workday for harvest time ends when all the work is complete for that day. One person leaving usually means more work for the rest of the group, so if you're not ready to push, think about staying home.
At the same time, if you're not used to physical labor it can be easy to overexert yourself. Slow and steady is a good pace for all the different work that happens during harvest and crush.
Expect your first day to be tough but prepare to enjoy the effort!
4. Safety first
You may have heard that you should leave your headphones at home. This is because communication is important during this hectic time. Without a quick yell from someone across the room, you won't know that a quick-moving forklift or overloaded fermenter is about to mess up your day. Plan to brush up on safety training for essential equipment and procedures.
These are some of the most common equipment you'll work with during harvest. If you haven't worked with one of these machines or tools before, do a little research and prepare some questions. This way the work can go as cleanly and smoothly as possible.
Pick bins
Fermenters
Racking wand
Forklifts
ATVs
Spray hoses
Destemmers
You'll also want a quick overview of lock out tag practices and pump setup for the winery where you're helping out. If you're not clear on every step of any task, ask again to make sure you get it right. A few minutes of inconvenience isn't a problem, but harvest mishaps can have a long-term impact on any winery.
5. Get ready for the not-so-friendly insect world
Spending time outside is a refreshing change for winemakers who spend most of their time in offices, the cellar, or on the road. But when harvest begins, keep an eye out for anything that stings or bites, even if it looks cute and friendly. Sorting is just one of many tasks that will attract insects like yellow jackets and black and yellow caterpillars. So, if you'll be spending a lot of time sorting, don't forget some bug spray. If you have allergies, be sure to pack an EpiPen or some Benadryl just in case.
Heat exhaustion is also a danger during harvest, so always carry water, and if you'll be out in the direct sun, don't forget to pack some sunscreen.
6. Make the most of your downtime
There is a lot of hurry-up-and-wait during any harvest, so prepare for intense hours of action followed by an hour or more of chill time. Training will often happen in the moment as problems or concerns bubble up.
Bring a book to read at the local coffee shop or download a list of favorite podcasts and audiobooks. Check out the local farmer's market or go pick a pumpkin. The skill of grabbing a quick nap while you can is prized during harvest, so consider investing in a portable hammock too!
No two harvests are exactly the same. The most experienced staff at the winery will need help troubleshooting and a team that will get to work at a moment's notice. Choose distractions that will keep you alert and engaged, but can also help you relax when you can.
7. Enjoy the rush
There will be a lot of routine tasks, but you'll have more fun during harvest time if you follow your curiosity. Ask questions and learn from the experienced winemakers and other people who come back every year to be a part of the magic.
For example, tasting happens throughout harvest, so taste everything you can. There are juices, fermenting wines, and other flavors you may not have experienced before. You might even have a chance to taste unfinished wines and use your new insider knowledge to anticipate the subtle changes that will shape the next barrel of wine.
Harvest is also a great time to meet new people. Enjoy a beer with the cellar crew at sunset. Make a playlist to blast on the speakers– classic rock and other high-energy music are usually popular. Bring snacks to share because all that work outside will burn calories like crazy. Homemade granola is a favorite because it's portable and an easy way to get a quick hit of fat and protein.
Hang out with all your new friends, but try not to stay out too late. You'll need your sleep– prepare to dream of grapes in the sun!
Once you and your new friends have said goodbye for the season, give yourself some time to re-enter your normal world and routines. It takes time to wind down from the intensity of the harvest.
Harvest isn't just about the wine it produces; it's about culture and community.
If you're looking for a 9 to 5, Monday through Friday, a job at a winery, harvest is not for you. But if you have a passion for the beautiful chaos of winemaking and the bounty of growing things in the wild, the annual harvest is an incredible experience.
Harvesting is intense, but every person who is part of the harvest cherishes it. You'll be telling stories and sharing memories for years, savoring not only the final product but the work that went into it.
Happy winemaking!