Powerful, Approachable
Wine Production Software
With thousands of harvests and decades of wine industry experience under our belt, we simply get it.
More than 5,000 winery professionals and many of the world's top brands trust us and use our software every single day.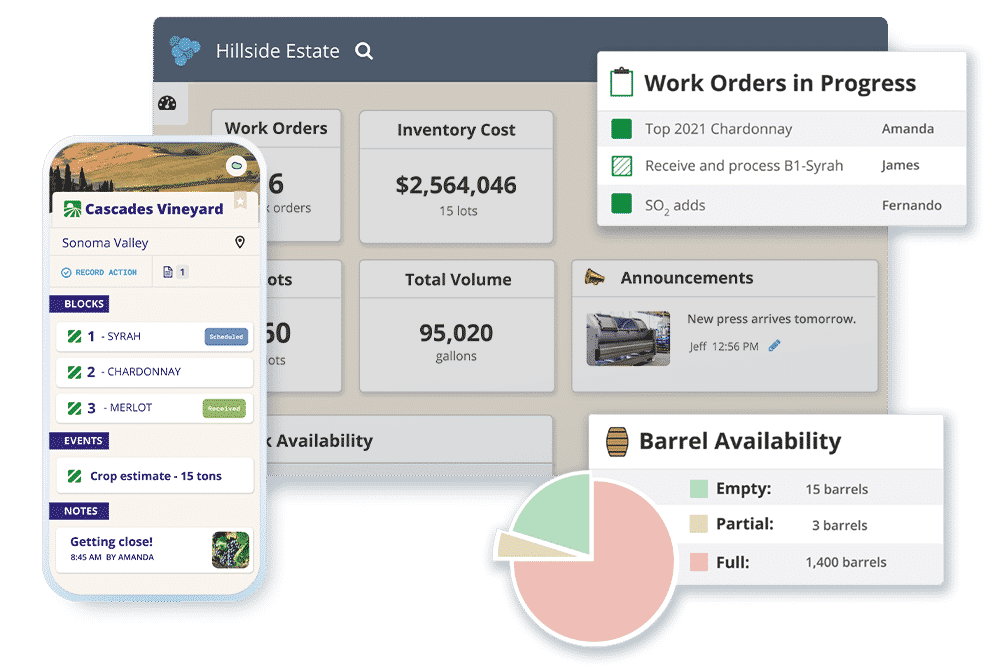 What Can InnoVint Do For You?
Founded and Led by a Woman Winemaker Craving Change
After being a winemaker for years, Ashley was tired of sifting through spreadsheets and old databases to get the answers she needed. So she set out to do something about it. InnoVint was born.
Winery Professionals Served
Loved by Over 5,000 Winery Professionals Around the World!
Optimizing the Entire Wine Production Process
Designed to work seamlessly with your unique wine production processes regardless of your size. 
Vineyard
Fruit Source Insights
Tackle the growing season with confidence when you understand vineyard trends year over year.
Cellar
Work Order Management
Go digital and save time. Your team can assign, complete, and submit work orders from anywhere.
Compliance
TTB and FDA Compliant
Not only can you execute the 5120.17 TTB report, but we hold you accountable throughout the production process with alerts.
Lab
Central Hub for Analyses
Whether you run samples in-house or externally, InnoVint is your source of truth for all your labs.
Finance
Seamless Cost Accounting
Finally! An easy way to track the true cost of each of your products throughout the production lifecycle.
Sales
Stats at Your Fingertips
You know those final wine stats you have to pull together for marketing? We make them instantly accessible!
Plans For Wineries of All Shapes and Sizes
A subscription to InnoVint gets you the core winemaking platform with the option to activate specialized modules, access to our Client Success team, loads of helpful resources, admission to the InnoVint Academy live training, and more!
Get Started with InnoVint
From the moment the buds break in the vineyard to the departure of your finished product from your winery, we're there with you to track every activity from start to finish.
Start a conversation with us today to see how InnoVint clients are saving 15-30 hours per week!