Coming out of a global pandemic, it may not surprise you to know that a majority of American workers say they are doing some percentage of their work remotely.
However, even though many workers are embracing this shift, many industries have their doubts. As you can imagine, working remotely has proven to be challenging for industries that require workers to operate equipment or accomplish tasks onsite (e.g., dining, retail, manufacturing, and the beverage alcohol industry).
The wine industry isn't any different. In fact, the industry has had to adjust to significant sales channel shifts to stay competitive. Wineries with strong direct-to-consumer followings or strong off-premise distribution persevered or even prospered during the pandemic, according to the 2020 State of the Industry report by Silicon Valley Bank.
Despite this negative impact, many wineries adapted, hosting online tastings and slowly figuring out what a hybrid, remote work model could even look like for them. This shift begs the question; is working remotely even realistic, or possible, for your winery, and if so, how do you do it?
We believe it is, and we have composed a list of three steps your team can take to make remote work in your winery a reality by helping you develop your own hybrid model:
Determine who has to be onsite
Determine who can work from home and make sure they have what they need to do so
Embrace better data management software and tech solutions
Determine who has to be onsite
The first step in setting your winery up for remote work is to consider who really has to be onsite to keep the winery running.
Unfortunately, wine production requires more people onsite than other winery departments based on the manual processes involved.
Winemaking wouldn't even be possible without harvest crews, cellar workers, and equipment specialists, who have to physically be onsite to complete their tasks.
According to Dan Berger, in "Telecommuting: Wineries Dealing with the Coronavirus," there is no way to get around it. Winemaking is a "hands-on activity, calling for skilled in-place workers to handle specific tasks."
However, this doesn't mean these critical employees must work traditional shifts. In fact, in cases like the pandemic, standard shifts would not be safe.
According to manufacturing contributor Williem Sundblad in Forbes, it may even be more efficient in your remote work environment if employers "stagger shifts to limit the number of employees on the floor at any one time."
Staggering shifts for your employees is not only beneficial because the remote workers will not have to worry about being confined in a smaller area with too many people, avoiding viral transmission, but also because it gives them the benefit and flexibility in the shifts they do work.
You can also offer additional bonuses to on-site workers like extra vacation time, overtime pay, etc. And in the case that you are worried about the safety of your employees, you could also consider restricting common areas, wearing gloves, and sanitizing tools after use.

Determine who can work from home, and teach them how to be effective
When making your plan to make your winery a remote workspace, the second thing you should do is consider the people who really can work from home, even on a part-time basis.
Like other industries with a large percentage of onsite workers, it could be tempting to think that there isn't anyone in your winery you can afford to let telecommute, or you may fear that your employees working from home won't be productive. But don't.
Consider what each of your employees has to do and whether or not there is a tool that can make that possible remotely.
Believe it or not, a large percentage of your employees at the winery can probably work remotely. These employees include hospitality, public relations, label designers, website managers, etc. And given the right telecommunication tools, even management doesn't necessarily have to be on site.
These strategies can even improve communication, particularly annual meetings or conferences that can become a logistical nightmare. For example, in Berger's conversation with an executive from Francis Ford Coppola Estate, he found out that teleconferencing through platforms like Zoom was more cost-effective and time-saving as an alternative to a larger conference they held each year.
Zoom is not your only option for teleconferencing. Microsoft Teams, Slack, Loom, and Discord are all widely used across industries as well. They afford you virtual face-to-face contact, which is preferable to email alone.
The team at InnoVint works almost entirely remotely, with a handful of employees also adopting a hybrid model. Michelle del Rio, Marketing Manager at InnoVint, had this to share:
"We rely on the Google suite, Notion, Slack, and Zoom to stay on the same page and to organize our workflow and projects. Simple yet robust software is essential to our collaboration and connection."
The only drawback to some of these technologies is that they sometimes come with an additional cost, and they do require employees to learn a new platform, so wine management should plan a training session with employees. These tools are only effective if there is an understanding of how to use them and when.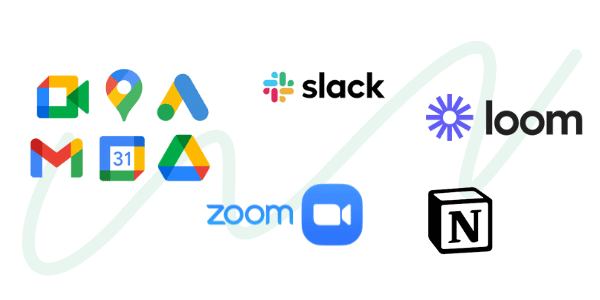 Management should also determine the "rules of engagement," that is, when and how often they should expect to use these platforms. The tools can also be used for community development, hosting social hours outside of work hours.
This brings me to my final suggestion; you should acquire technology that makes it easier for you to monitor your winery remotely.
Embrace better software and technology solutions
Along with basic video and communication technologies, you should also add more specialized data tracking and management software to best operate your winery remotely.
Sundblad suggests that manufacturers implement the three A's to best optimize their remote strategy. Though manufacturing is different from the winemaking process, these suggestions may still apply; the three A's are data availability, accuracy, and aggregation.
Common among these suggestions is their reliance on specialized software platforms that allow managers to keep track of their companies remotely.
According to Sundblad, these technologies are ultimately beneficial because they add automated sensors to machinery, and these sensors help generate "qualitative data that provides context to process data." In other words, these sensors allow managers to observe accurate, available data in the process, so when any problems occur, they can locate and fix the problem immediately.
Finally, this will only work if the data is easily observable in a centralized and aggregated way. Unless the distant workers can easily make out trends and patterns in the data through different visualization and exploration tools, the data is useless.
The technologies Sundblad describes already exist in software management systems like InnoVint.
InnoVint provides a host of different data monitoring tools, including Remote Work Order Management and Control System Integrations that empower you to take action on critical data from anywhere.
Keep tabs on your winemaking workflow with InnoVint's digital work order assignment and completion feature. Work orders can be assigned to your cellar team from anywhere in the world, and you can monitor your team's progress remotely and in real time. This gives you the flexibility to stay on top of the workload without having to be physically onsite.
You can also maximize integrations, such as TankNet, to view lot details and analytical results, pulling in data direct from the integration partners. The value, source, date, and timestep are logged and easily viewable anywhere all from the InnoVint platform.
All winemaking activity is viewable due to centralized, aggregated data and multiple visual tools and displays, including the winery dashboard.
The winery dashboard is a data monitoring software that helps you keep track of it all, including work order statuses, recent activity, vessel history, harvest metrics, inventory value, announcements, and more general statistics.
InnoVint also has a mobile app with offline capabilities so you can check your data on the go, even in distant vineyards and deep winery caves.
Matt Hughes, General Manager and Winemaker at Feliz Creek and Campovida, told us how InnoVint helped him work remotely.
"When we first started having fires on our property, we had to evacuate our winery three different times. I could stay somewhat sane and functional using InnoVint on my laptop," Hughes said.
Reliable wine management software allows you to track and monitor data quickly and efficiently, which is necessary if you manage your winery remotely.
Conclusion
So, if you want to move to remote work for your winery, consider these three simple suggestions.
Determine who is necessary to keep the winery running and stagger their shifts to offer more flexibility.
It should then be easy to determine those who can work from home with ease, and they're equipped with a communication platform (Zoom, Microsoft Teams, Slack, Loom, or Discord) and have the proper training to utilize it.
Finally, if you are a manager yourself, consider whether or not you have the right software management system to keep up with the minute-by-minute changes occurring in your winery.
And if this is the first time you are considering remote work for your winery and/or are looking for a wine management software system, give InnoVint a try.
Happy winemaking!