Winemaking consultants offer services ranging from quality improvement advice to full-scale guidance in every step of the winemaking process. They typically work with several clients at a time, making them highly knowledgeable and experienced in executing your vision.
A winemaking consultant has been in your shoes many times over and is dedicated to helping you to make the best wine possible.
The decision to hire or not to hire typically comes down to your personal winemaking experience and that of your team if you have one. Are you brand new to the industry? Is there an area of your process that could use some dedicated, experienced thought and planning?
In this post, we will cover:
What a winemaking consultant does.
How to know if you need a winemaking consultant.
How to find a winemaking consultant and questions to ask during the process.
The typical costs associated with hiring a winemaking consultant.
We sat down with Robert Nida of Vine to Vino Consulting to get a winemaking consultant's perspective on determining the right time to start looking for a consultant and what to look for during your search.
"If you're starting to see issues in the cellar or your winemaker leaves and you have no replacement, you should hire a consultant to make sure everything stays on track while you're in that transition period. You should also consider hiring a consultant if you are new to the wine industry or just hire a winemaker right off the bat," says Nida.
He adds, "You might consider a consultant if you have a new hire who doesn't have years and years of winemaking experience; you can hire a consultant to come in and guide that newly minted winemaker."
Nida primarily works with new, existing, and prospective wineries in the Texas Hill Country and surrounding areas. He works alongside his wife, a vineyard consultant, and together they offer support at every step of the way, from vine to vino, true to the name of their company. He is also co-founder and winemaker at Pebble Rock Cellars.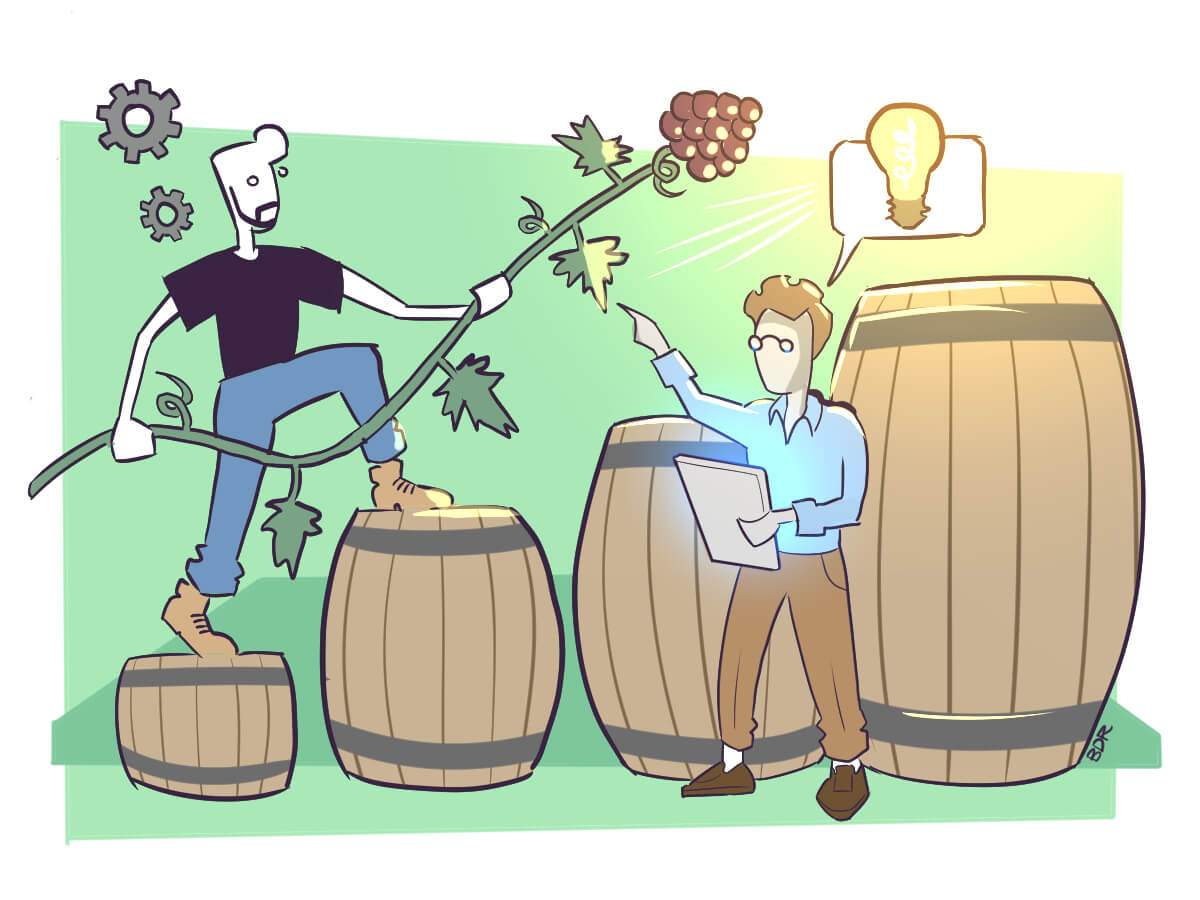 So with that, let's dig in…
What does a winemaking consultant do?
A winemaking consultant can help with:
All areas of winemaking
Enhancing existing programs
Winery development, including permits, layouts, and equipment selection
Picking out the best winery software
Networking and local resources
Identifying areas for improvement to help you reach your full potential
Marketing, PR, and brand development
How do I know if I need a winemaking consultant?
If you fit into one of the following situations, it might be time to start looking for a consulting winemaker.
Situation 1) You are just getting started with winemaking
Winemaking was just a hobby before, and now you have fallen in love with the process. "You'll see people saying I used to make wine in my house, like five-gallon batches. But that transition from doing home fermentation to commercial… that's a huge learning curve," says Nida. So It turns out it's more complicated than it looked, and there is a lot to consider before getting started. If you look to Google, you might get overwhelmed with questions like:
What kind of licenses do you need?
Are you purchasing bulk wine, purchasing grapes, or are you growing your own grapes?
What is your vision for your wine product line?
What winery software will you use to track what's happening in the cellar and vineyard for compliance and reporting?
What is your distribution strategy?
Nida sees value in helping wineries at the start of their journey "I like coming on board at the beginning. It's a bit more challenging to do damage control after the fact."
While you might have the confidence and determination to figure it all out on your own, it might be worth it, in the long run, to save yourself time and money by bringing in a trusted resource with winemaking knowledge to fill in the gaps. According to the Harvard Business Review, "over two-thirds of wineries hire consultants to improve the quality of their wines."
Having someone to call on for major decisions can save you time and money. A winemaking consultant is an expert who has not only been exactly where you are but has helped others in your situation time and time again.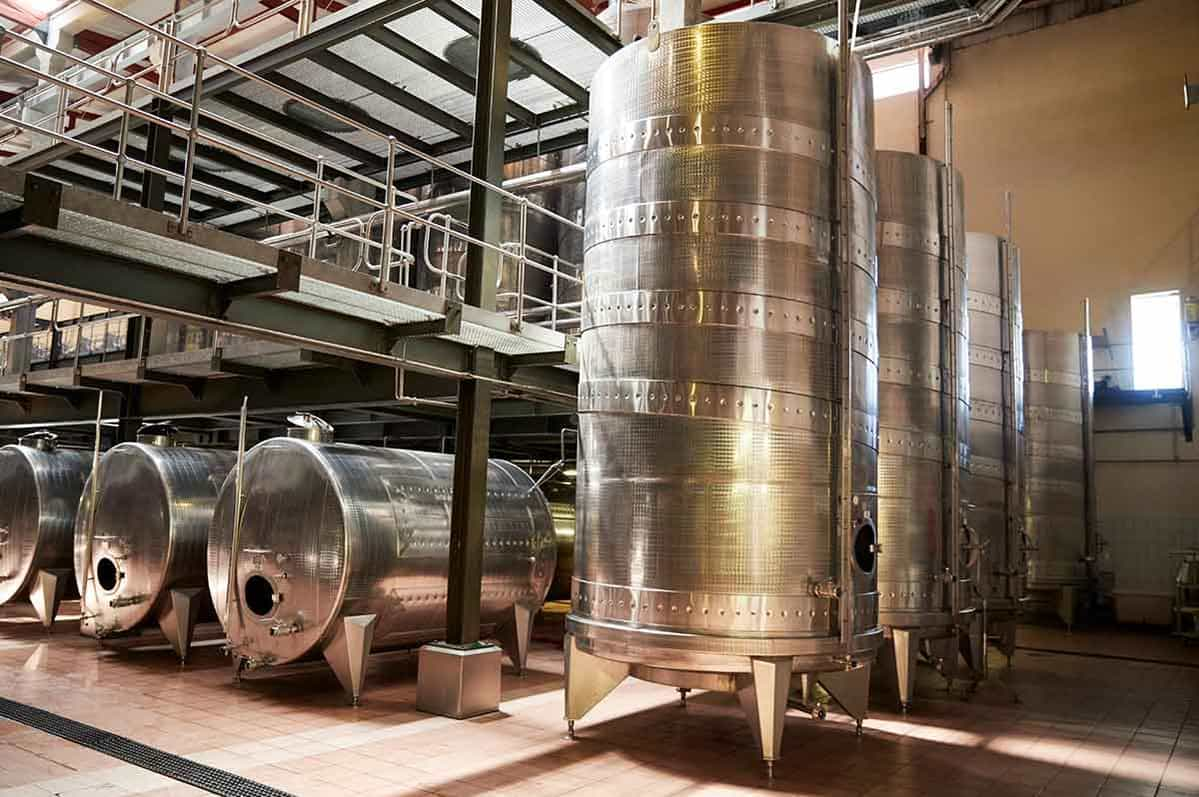 Situation 2) You are in between winemakers, or your winemaker is part-time.
If you haven't yet hired a winemaker, you are in between winemakers, or because of your size, your winemaker is part-time, you might want to consider a winemaking consultant to fill the gaps. Sometimes it's unclear that things aren't as productive as they could be.
Nida shared a story about an owner trying to do it all himself. "He thought he could do it all and just didn't understand winery and operational flow. All the barrels were just shoved in half the building. You couldn't even get in there to be topping or SO2s. I came in, and the first thing was like, let's rearrange this. We were even finding extra barrels unaccounted for."
A winemaking consultant can come in and tell you how to best utilize your space for the ideal winemaking workflow and storage.
"People don't always account for case goods storage when they are deciding on how big of a space to get for their operation. In Texas, there aren't a lot of offsite case goods storage, so it's a big one to consider," says Nida.
Situation 3) You're struggling with production issues.
Do you have a specific problem you want to outsource, solve or optimize?
An outside opinion might be needed because you are so deep in it that you can't see what needs to be changed. A consultant can be an impartial third party to diagnose pain points, offer an improvement plan, and educate staff.
Nida had this to say, "It can be challenging to clean up messes and make sure everything is working. It's much easier to catch it, in the beginning, to make sure the plan is there." He continued, "I once walked into a 10,000-case winery, and they didn't have any winery software, which was just shocking. They were using spreadsheets. It was all over the place. The winery had gone through three winemakers at that point."
"Each new winemaker was trying to play catch up to understand the spreadsheets and processes. It wasn't straightforward at all. I came in and said, ok, let's get this right and into shape so that the next winemaker that comes in doesn't have to solve this forensic DNA style investigation to understand how to do their job."
There are a ton of ways to optimize and track your production. A winemaking consultant might suggest a few changes, a total overhaul, or to implement winery management software to make everyone's job that much easier. When you're working with an outside party it's even more of a reason to have a system in place that allows you to communicate about winemaking when offsite. You need a cloud-based, remotely accessible solution.
If you are a winemaker struggling to understand your owner's hands-on approach, you might want to push for an outside consultant to come in and help to plead your case for improvements.
Situation 4) You want to take your wine to the next level.
Everyone wants to make the best wine possible, and a winemaking consultant might be the ideal resource to hone in on your wine style and quality, and possibly even increase your scores.
A winemaking consultant will taste your wine, research your fruit sources and grape quality, and examine your processes and lab results to offer ideas for improvement. They will help you organize your goals while being realistic about your options.
Many winemaking consultants offer a nondisclosure guarantee which might also be important to you if you are looking to keep your practices private.
How do I find a winemaking consultant, and what should I look for?
Begin by asking winemakers in your area for recommendations.
Regional communities are important support systems in the wine industry. If you are new on the scene, it's worth it to get to know local winemakers and start to build up a small network. You should also consider a winemaking consultant's years of experience and areas of expertise as well.
"Do your due diligence," says Nida. "Figure out who that consultant (or custom crush) has made wine for…current clients and past clients. Get a good idea of who they are. Make sure that they will be a good fit for you."
Nida gets most of his clients from referrals. His wife, who does vineyard consulting, is often hired on first, and he comes in to address winery plans.
"We call her the 'dream crusher.' She tries to talk people out of it as much as possible. Especially if they are retiring, they have a romantic notion of retiring with a vineyard, and she asks them if they are prepared to work hard or do they actually want to enjoy retirement?"
A consultant who tells you what to expect, no matter how hard it is to hear, is valuable. You want them to prepare you for the hardships and then lay out a plan once you understand what you are in for, both operationally and financially.
Here are a few questions to ask a winemaking consultant before pulling the trigger:
Can I have a list of references with contact information? Call former or existing clients to see how the consultant helped them achieve their goals. Ask for references about the consultant's communication style.
What is your wine philosophy? Look for someone whose winemaking philosophies and approach closely resemble yours.
How do you prefer to work, and what is your approach? Are you in need of someone to be very hands-on so you can be hands-off, or will this be more of a collaborative effort?
What software have you worked with? If you have already decided to work with a specific winery software, make sure the consultant is open to familiarizing themselves with your technology. It's critical that winemaking can be run through a single source of truth for you both to reference wherever you are.
How much does it cost to hire a winemaking consultant?
Some consultants charge on a daily or monthly basis. Other consultants may charge based on production size or by how much time and effort your specific needs will require.
The cost is typically lower for ongoing work. In most cases, it's usually cheaper to hire a consultant than hiring a specialized, full-time staff member, however, this is highly variable based on region and quality goals.
To hire or not to hire?
You may be hiring a winemaking consultant for their knowledge, their palate, their operational assistance, or all of the above. You're bringing on an expert, a teacher, and a solutions-oriented individual who has worked with other clients just like you and wants to help you make the best wine possible.
Happy winemaking!
—
A very special thanks to Robert Nida with Vine to Vino Consulting for help with this piece. Vine to Vino serves existing, new, and prospective wineries in the Texas Hill Country and surrounding areas. They have a range of offerings from consulting, guidance, implementation, and training.
Vine to Vino brings your wine vision to life with winery planning, equipment sourcing, and a layout design to fit your needs. If you are on the hunt for a consultant, drop him a note using the contact form on his site.