It's that time of year. You've decided on your wine style, forecasted your production, and are readying the cellar for the upcoming season. Plan to spend some time thinking about your wine aging program.
Chances are, you've been here before. And you know that with the advent of new technologies and the repurposing of old-world ones, there are more options for you than ever before.
The choice is not so simple.
So, if you are struggling to choose how to age your wine or are looking to branch out this season, there are a few things to keep in mind:
Flavor profile
Cost
Sustainability
Flavor Profile
One of the things you should think about when choosing how to age your wine is how the material will affect the mouthfeel, texture, and tannin of the wine. Certain oaks, woods, and other alternatives can really give a wine a different variety of sensory components, textures, and structures. So it's important to keep the taste profile you want in mind when considering your oak regime and toast selections.
French Oak
Aging wine in French Oak barrels is a popular choice, especially when you are making wines that have more delicate profiles, such as Chardonnay and Pinot Noir. The tightness of the grain is very well suited for long aging periods.
French Oak is typically less dense than other oak varieties, and the wood has a moderate amount of tannin. Given the tannin structure, wines aged in French Oak are softer and silkier, giving it a tendency to be bitter. You could also use French Oak to give the wine hints of spice and roasted notes without being overbearing, but the toast level further defines these.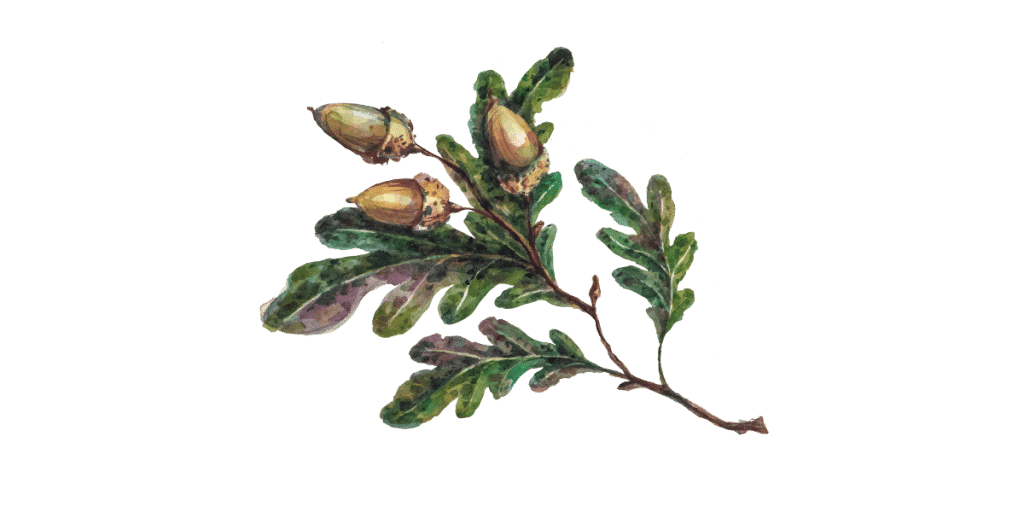 American Oak
On the other hand, aging wine in American Oak barrels is typically less popular. According to Dr. Tom Cottrell in Wine Business Monthly, American Oak has a more "spotty reputation" because the oak's flavor is much stronger than French Oak, contributing more to the wine, and it makes it easier to over oak.
But spotty reputation aside, American Oak is really popular to use for certain styles and varietals. American Oak is known to contribute flavors of vanilla and coconut. As a dense wood, it can integrate more tannin than French Oak and can give the wine a creamier, sweeter taste. This makes it a better option than other oaks at handling your stronger, hedonistic wines like Zinfandel and Cabernet Sauvignon.
Hungarian Oak
Decidedly the "middle ground" of the oak options, Hungarian Oak (sometimes referred to as Eastern European) is similar to French Oak because they denote more subtle flavors. You can pair Hungarian Oak barrels with full-bodied wines like Petit Verdot and Malbec because the richer and nuttier flavors of the woods compliment them well and add complexity and be a solid blending option for lighter styles wines as well.
Acacia & other alternatives
The use of oak alternatives is growing more and more common. Some examples of these alternatives are Acacia wood, stainless steel, and concrete such as an Amphora. These materials give you more control and, in general, add no to little flavor to oak but can contribute to texture and mouthfeel.
Acacia wood typically adds a floral flavor to the wine, and it can add a wonderful texture. Acacia wood can be common for wines like Sauvignon Blanc.
Stainless steel is also a popular alternative to oak and is typically used for white wines like Chardonnay and Sauvignon Blanc when the winery wants no vessel impact on the wine. Stainless steel is great at retaining the inherent characteristics of the grape and the freshness of the flavor, as opposed to oak.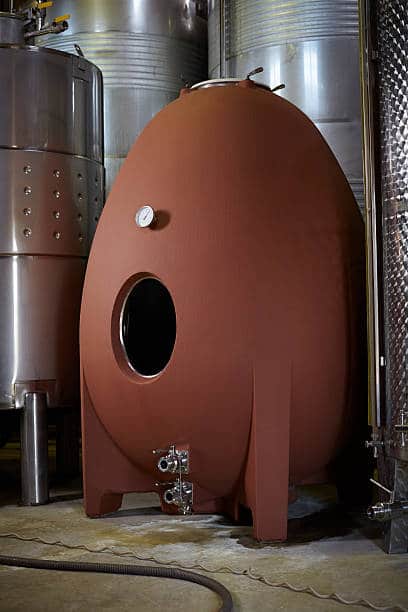 Old-world options like concrete and Amphoras are also becoming popular alternatives.
Using concrete to age wine is a great option if you want more breathable material, like oak, but also want to maintain the wine's flavor and structure. Concrete also has an advantage over other options like stainless steel because the concrete's minerality will contribute to your wine's texture.
Likewise, amphoras are another more breathable material for aging wine. And even more than concrete, the minerality from the Amphora's clay body greatly enhances the texture of the wine.
But amphora has one real drawback: they are typically only an inch thick, so they are very fragile and tough to move.
Cost
Another important consideration of your wine aging program is the vessel price, which varies drastically.
Oak barrels really differ in price. French Oak barrels mostly come from the Quercus Robur trees in French and are often the most expensive, ranging from $850-$3,500, depending on the quality of the barrel.
On the lowest end of the spectrum, American Oak barrels often come from the Quercus Alba in North America and are the most cost-effective oak at $360-$500 a barrel.
The Hungarian Oak barrels come from the same species as the French Oak but are more reasonably priced at $560-$700 a barrel.
Acacia wood barrels, stainless steel containers, and large concrete and amphoras vary in price depending on the shape, size, and quality. While Oak barrels can only be used a few times before they no longer contribute to the wine (and pose a risk of contamination), alternatives do not have the same limitation.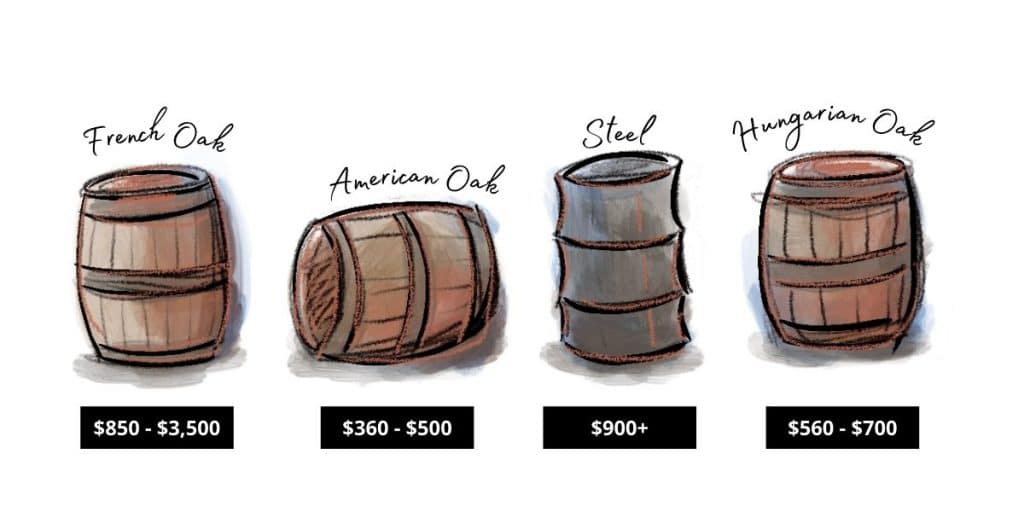 Sustainability
By now, you understand many factors go into selecting the vessels in which you age your wine. Beyond taste and cost, you should also consider the material's sustainability.
It's probably obvious, but it should be stated: trees from North America, France, and Eastern Europe have to be harvested to make these barrels. So if oak is your choice of material, you should know about its impact on the environment.
The process of harvesting French Oaks is really complicated since each log must be hand-split, not sawed. The truth is that by hand-splitting the logs, only about 20% of a log can be used to produce the staves that create a barrel.
The process of harvesting American Oak is more straightforward because they are sawed mechanically. But in reality, they are not much better sustainability-wise because only 50% of the log is used. Oak barrels are also limited in the number of uses before they are considered neutral, which also contributes to waste.
Even though oak barrels contribute excellent characteristics to wine, they aren't very sustainable, especially compared to alternative options mentioned, like stainless steel, concrete, and Amphora.
Conclusion
You might be unsure which aging material to use for your upcoming production. Or you could already know the one that works well for your wine aging program. But regardless, keeping these factors in mind as you decide should help you select the right mix of vessels.
For example, if you are primarily concerned about cost, your short-term bet might be American Oak, and long term, you may want to upgrade to French Oak depending on your winemaking style.
But if a balanced, integrated profile is your concern and you want the best bang for your buck, Hungarian Oak might be an excellent choice.
The best part of the process is experimentation! You can try out a few options and see what resonates with your palate and preference the best. You always have the opportunity to blend!
Happy winemaking!